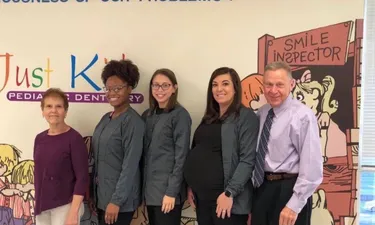 Our mission is to provide optimum children's dentistry in a fun, loving and caring atmosphere to give your child the tools that will serve them for a lifetime.
We have a passion for prevention ; we believe that education is the key for a lifetime of good oral health.
We individualize the needs of every child to provide a comfortable, pleasant and compassionate experience with thorough evaluation and care.
We encourage parents to take an active role in the dental education of their children.
We invite parents to be our partners in dental care for their children and we may have them in the treatment room to be part of this worthwhile process when of special value for their child.
We believe that each child requires special child size manners from us.
We want to make the dental experience pleasant, relaxing, educational and fun for the patients and parents and of significant value to the child's well-being.
We take the time to talk with the parents and the child to help equip you and your child with the knowledge for good oral care.
Once any necessary restorative care is completed, our emphasis will be on future prevention. You can learn more about your treatment options from our services page.
From all of us at Just Kids Pediatric Dentistry welcome Thank you for visiting our website
Dr. Swain
I graduated from Indiana University School of Dentistry. I completed my specialty training in pediatric dentistry at Riley Children's Hospital. I was awarded the McDonald Excellence Honor at the completion of my residency and was an honor graduate in the top 10% of my class. I am specially trained how to best handle all children, children with special needs, children with complicated medical conditions, and the many children who have dental anxiety!
This is a continuing education process. Every year I attend courses that will allow me to provide the proper care for our childrens needs.
I am a diplomate of the American Academy of Pediatric Dentistry and board certified in Pediatric Dentistry.
I like being active in the community, presenting the preventive oral health message to all for the child's wellbeing.
I truly enjoy the opportunity to provide care for children at Just Kids Pediatric Dentistry.
I see that my primary role is to present the preventive dental health information to keep our children healthly, but I am prepared to provide the necessary treatment when needed and lead our children to adulthood with no additional dental disease.
I a member of the American Dental Association, Kentucky Dental Association, Louisville Dental Society, American Academy of Pediatric Dentistry, Indiana Academy of Pediatric Dentistry, Kentucky Academy of Pediatric Dentistry, Nortons Children's Hospital Medical Staff.
Brooklyn
I joined Dr. Swains team in February of 2021. I graduated from Medquest College in November of 2020 with my certificate in dental assisting and EDDA. I also completed additional training at the University of Kentucky, for coronal polishing and preventive dental patient care. One of the many things I love about my job is getting to interact with the patients and their families to educate them on good dental health. It is so rewarding to be involved with helping the child stay dentally healthy. I was born and raised in Louisville, KY. Some things that I like to do outside of work are dance, spend time with family and travel.
Paige
I graduated from ATA College December 2021 with a certification in Dental Assisting and will continue my education. I enjoy how unique each child is. It is rewarding to teach them proper daily dental care in a way they will learn, understand, and be excited to brush, floss and imrpove their dental and total health. I enjoy music and learning to play new instruments with my three boys. I love to get out and enjoy life with my children and experience new things in life.
Kyndal
I graduated from ATA College in 2019 with a certificate in Dental Assisting and EDDA. I started here, at Just Kids shortly after completing my dental assisting course. I love the kid friendly environment and all the smiles we see come through our door everyday. I enjoy getting to know the kids and helping them overcome their dental fears with a comfortable and positive experience. I am a Kentucky fan, GO CATS! I enjoy spending time with my dog and family. I love to travel and love being by the water at the lake or beach.